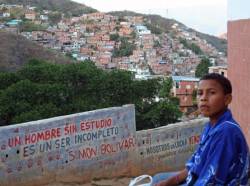 Image: George Brugmans
"THIS IS NOT A MOUNTAIN FULL OF HOUSES, IT'S A HOUSE THE SIZE OF A MOUNTAIN"
In Caracas, the most dangerous megacity on the South-American continent, petrol is cheaper than water, yet the rich spend billions of dollars on private security only to end up behind their own barbed wire fences.
Over the last decennia, like a magnet gone mad, Venezuela's capital has drawn in millions of migrants. Now more than four out of its six million inhabitants live in self build constructions in the informal conditions of the barrios where only the laws of the strong rule.
Caracas: The Informal City, a film by Rob Schröder, is a portrait of a city that is rapidly becoming the prototype for the exploding urbanization witnessed above all on the African and South-American continents. Here a completely new socio-political and architectonic reality has been developing.
Shot in the spring of 2007 on location in the barrios of Caracas, the slums where Comandante Chavez has his powerbase, the film provides a unique perspective on the practice of the informal city.
When the concept of the city is disintegrating, as Rem Koolhaas warns us, it is up to the architect to come up with an answer. That is exactly what architects Alfredo Brillembourg and Hubert Klumpner are after; for them the practice of the barrios points forward to architecture's only possible future: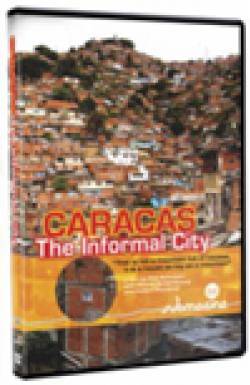 a renewed commitment with the potential of a city build by its inhabitants.
The film will be released on DVD by Submarine and is available for purchase starting 24 May at www.submarinechannel.com/shop
VPRO Holland.doc
During the Biennale, a programme of films will be presented in collaboration with the VPRO, broadcast every day from Saturday 26 May through Friday 1 June on Holland.doc, both on digital television and on the website of the VPRO:
Lagos/Koolhaas (2002) by Bregtje van der Haak
Onze Hoofdstad (2000) by Jos van den Bergh
Eigen Terrein (2002) by IJsbrand van Veelen
Onze Man in de Straat (2000) by Rob Schröder and Felix Rottenberg
Locatie Tussenland (2006) by Ben van Lieshout
Detroit, Come Back City (1998) by William de Bruijn
Retopia (1998) by Bregtje van der Haak


Various debates and lectures held in the PowerLounge will be recorded and available for viewing from June though August on the website of the VPRO: http://www.hollanddoc.nl