19.04.12
Opening Test Site Rotterdam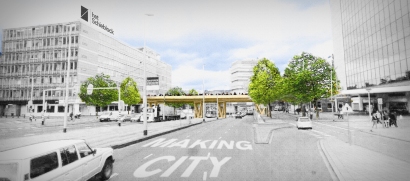 Test Site Rotterdam is a long-term project by the IABR and the architecture office ZUS that focuses on the Rotterdam Central District. ZUS wants to improve the quality of the area in an affordable manner with small interventions, including the Luchtsingel. Vitality must be restored to this urban district.

Activities will intensify in the Rotterdam Central District during the 5e IABR: Making City. Test Site Rotterdam kicks-off officially with a festive programme on Thursday 19 April 2012.

Program 19 april at Test Site Rotterdam:

19.00 hrs | Opening IABR Test Site Rotterdam
Welcome and Curator Statement.
Mrs. Antoinette Laan, Alderman of Sports, Recreation, Arts and Culture will perform the opening of the IABR Test Site Rotterdam.
From 19.30 | Experience the Test Site Rotterdam
You will have the opportunity to visit the IABR exhibitions: I / We / You Make Rotterdam, Making Douala (opening 19.30 hrs at RiverClub Gallery) en Design as Politics (opening 19.30 hrs at Mini Mall). On the Test Site you will find a diversity of 'pop-up stores' and a varied offer of food and beverages. From 20.00 hrs the opening celebrations of festival Motel Mozaique will take place. There is an after party in the Dépendance.
> Read more about I / We / You Make Rotterdam and the Luchtsingel at
www.imakerotterdam.nl
.