15.12.11
Mayors of Rotterdam and Istanbul discuss IABR plans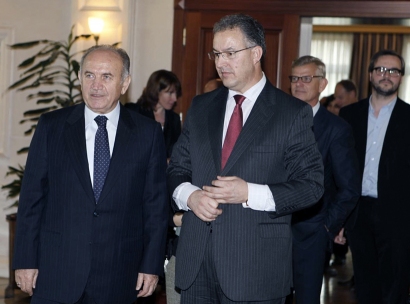 from left to right: Mayor Kadir Topbaş, Mayor Ahmed Aboutaleb, the Dutch Consul-General Onno Kervers and Joachim Declerck, member of the 5th IABR Curator Team and responsible for Atelier Istanbul. In the background on the right IABR director George Brugmans talking to Asu Aksoy, IABR's local curator in Istanbul.

On 7 December a Rotterdam delegation led by Mayor Ahmed Aboutaleb travelled to Istanbul for a visit that included an official meeting with Kadir Topbaş, mayor of the Istanbul metropolitan region. During the meeting the Strategic Vision and Action Plan – made by the IABR and commissioned by the municipality of Arnavutköy – was presented to Topbaş.


Istanbul has been a twin city of Rotterdam for decades. Celebrations to mark 400 years of relations between Turkey and the Netherlands are planned for 2012. In the run-up to those celebrations, Mayor Aboutaleb met with the city council of Istanbul. George Brugmans, director of the IABR, attended this official engagement.

Subjects discussed during the meeting included the joint venture between the IABR and the municipality of Arnavutköy. This IABR Atelier Istanbul involves collaboration on the common ground shared by urbanism, ecology and economy. Collective challenges in how we deal with water play a big role in this initiative. Both cities view this IABR project as an excellent instrument for exchanging expertise and joint research. In the words of Mayor Aboutaleb:

"We are fully realizing that better cities take a lot of hard work. Cities should therefore collaborate, exchange expertise, knowledge and new approaches. City leaders who share best practices maximize progress and minimize costs. Better performing cities working together create more wealth for everyone involved. That's why we are glad to host the IABR, a platform focusing on the future of the city. This gives us an ideal instrument to share best practices and work together with other cities in the world." (Dunya Gazetesi)

Mayor Topbaş, accompanied by a trade delegation, is invited to Rotterdam in April 2012 to attend the opening of the 5th IABR: Making City.

Read also:
> Interview with Mayor Ahmed Aboutaleb in Dunya Newspaper (08.12.11)
> Deepening Turkish-Dutch collaboration in urban renewal (07.11.11)
> More information about Test Site Istanbul