29.07.12
A TRANS Berlin opens at RiverClub Gallery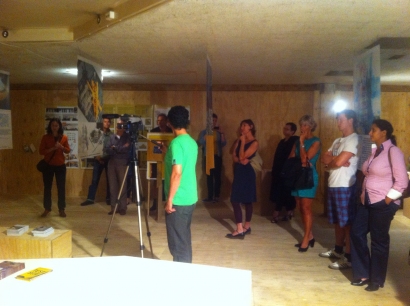 On the evening of Saturday 28 July, the exhibition A TRANS Berlin opened at RiverClub Gallery, part of the Test-Site of the International Architecture Biennale. 
A TRANS Berlin is an open platform that was founded in 2006 to showcase the artistic and architectural visions of cultural producers with an affinity for social and urban issues. The platform was the idea of Isolde Nagel, architect and artistic curator, and a recent guest at the Goethe Institute Rotterdam.
In her quest for allies and individuals and groups who share her passion, Nagel put together a presentation with a diversity of participants keen to redefine urban and social phenomenon. Focusing on projects that transcend disciplinary boundaries, the presentation aims to draw attention to new and experimental trends that are shaping urban practices and identities in the city of Berlin, and which could also be exemplary for other metropolises.
A TRANS Berlin presents a variety of projects exploring innovative visions of 'the ideal' (philos.: "the ideational", Germ.: "das Ideelle").
With contributions from
Jakob Michael Birn (Berlin), Astrid Busch + Harald Opel (University of Dortmund | Dep. Film), Community Lover's Guide to the Universe (Rotterdam), Yona Friedman (Paris), Prof. Eilfried Huth (Graz), merz sauter zimmermann gmbh (Stuttgart), Claudius Pratsch (Berlin), Rajan V. Ritoe | tomaat web-tv (Delft), Prof. Thomas Tünnemann (University of Aachen | Dep. Architecture), Marian Wijnvoord (Berlin)
The opening was a fun, intimate evening and visitors were excited by the ideas and innovations on offer. A TRANS Berlin is on view until 12 August 2012 at the RiverClub Gallery, Delftsestraat 6, Rotterdam.