26.03.12
The Luchtsingel Now Under Construction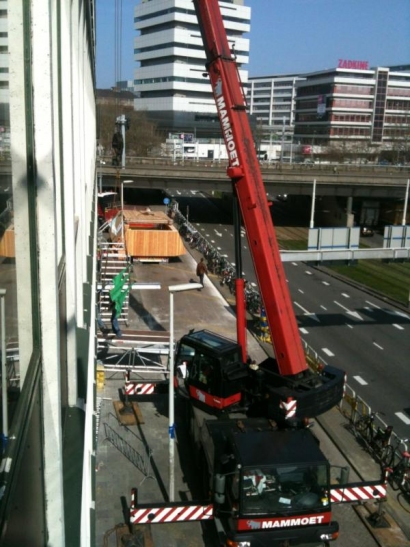 Photo via @SuzanneStam
Construction work on the Luchtsingel in Rotterdam has officially begun. The first section of the promenade will be installed by crane today. This part of the Luchtsingel was funded entirely by crowdfunding (with donors buying  planks or parts of the bridge).
ZUS won the Stadsinitiatief exactly two weeks ago, which supplemented the Luchtsingel's construction budget by 4 million euro. The Luchtsingel will be constructed in phases, in partnership with GrootLemmer, a company experienced in building wooden bridges.
We hope to the first pedestrians will be crossing the bridge to coincide with the opening of the 5th IABR: Making City.
If you would like to donate towards the project and have your name inscribed on the bridge, there's still time. To find out about buying one (or more) planks, see
www.imakerotterdam.nl
.