21.09.11
Successful start of lecture series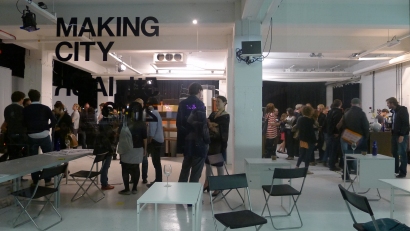 Rients Dijkstra (Maxwan) spoke to a full house about the changing relationship between the city and the economy on Tuesday, September 13. A successful introduction to the central theme of the 5th IABR: Making City.


Designing with money
Rients Dijkstra told the story of an 'architect-urbanist' proposing innovative design approaches including economic modeling. With the modest title of his presentation, "Adventures of an architect trying to be useful", he hinted that he wouldn't give a standard portfolio presentation. He gave an insight into his concerns and doubts in the quest for better architecture with less money.

Architects and urban planners have accepted a role on the sideline of project and area development. Using form, material and detailing  they mostly design only after key decisions have been taken. Too few of them are showing an active interest in the relationship between design and money. Sustainable design is inherently good and necessary. Sustainability implies smart relationships and a symbiosis between different professional fields, including - and by no means limited to - design and economy. Subsequently, designers should understand finance, in order to be a constructive project partner.

The dialogue about Making City, the theme of the 5th IABR, continues on Tuesday, September 27 with a lecture, organized by the IABR and AIR, about the project '50,000 new homes' in Bordeaux.
> Read more

(Photo: Pierre Berthelomeau)

More picutres on the IABR Facebook page.