17.04.12
Countdown!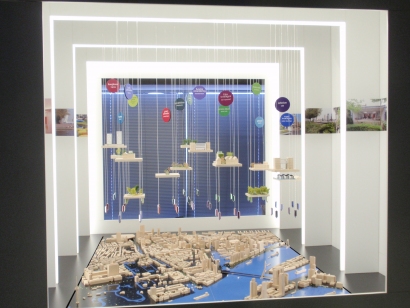 Sneak preview of the main exhibition 'Making City' in the NAI
At last the waiting is almost over: the official opening of the 5th IABR: Making City takes place this Thursday, 19 April. The opening starts with a private program at the NAI, but in the evening everybody is welcome at the NAI and Test Site Rotterdam. The Motel Mozaïque, ZigZagCity and IABR programs will come together in unique fashion in and around the Schieblock building. 
Public program on 19 April
The main exhibition
'Making Cities'
and the exhibition
'Parallel Cases 2 - Smart Cities'
are open to the public from 17.30 till 19.00 at the NAI. 
The NAI is also the starting point for a walk that starts at 17:30 and takes in various sites that are part of the new ZigZagCity architecture festival before ending in the car park behind the Schieblock. That's the venue for the official opening of
Test Site Rotterdam
at 19:00. Immediately after the opening, at around 19:45,
Convoi Exceptional
will offer a foretaste of
Vive la Straatmuzikant
, a new project by Motel Mozaïque. As they play, Convoi will lead the audience to Perron Mozaique on the Hofbogen viaduct, to the exhibition 'Design as Politics' in the Mini Mall (festive opening at 19.30) and to the program in BIRD. It's also possible to visit the exhibition 'Making Douala 2007-2013' at the RiverClub Gallery (festive opening at 19.30). The official opening of Motel Mozaïque 2012 at Hofbogen is at 20:00. The party will continue into the early hours, everyone is welcome, and admission everywhere is free!
No plans for next weekend? All sorts of festivities for IABR, Motel Mozaïque and ZigZagCity take place on Friday, Saturday and Sunday. Visit the websites below for more information:
The 5th IABR: Making City runs until 12 August in Rotterdam, Almere and São Paulo, and until 31 October in Istanbul.