22.05.12
Last chance to visit 'Making Douala 2007-2013' in Rotterdam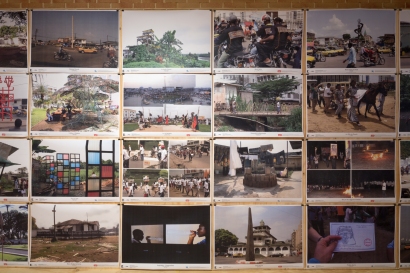 Photos: Ossip van Duivenbode
The exhibition 'Making Douala 2007-2013' in Rotterdam is coming to an end. But you can still catch it at the RiverClub Gallery (Delftsestraat 6, Test Site Rotterdam) until Friday 1 June. 
Making Douala 2007-2013 focuses on the effects of contemporary art in public space on everyday life in the African city Douala (Cameroon). In an interview on
popupcity.net
Kamiel Verschuren (ICU art projects) refers to his own project
New Walk Ways
to draw a comparison between Douala and Rotterdam:
"In a sense, New Walk Ways is a project that contributes, at least in a small way, to how residents can continue making Douala, or Rotterdam, or Manila, or Edmonton: through consistent and collective engagement in protecting public space and collective resources."

You can read more about the art projects in the publication Making Douala 2007-2013, designed by OONA. This publication is available at the exhibition location: a basic edition costs 7.50 euro, and a special edition (which includes an art poster) is 35 euro. 
The SUD Triennial touring exhibition is poised to travel the world. From Sunday 31 May, the exhibition will also be at the
Raw Material Company, center for art, knowledge and society
in Dakar as part of Dak'art, the Dakar Biennale. – More information on the
ICU art projects website
.