16.04.12
Get caught up in urban conflict!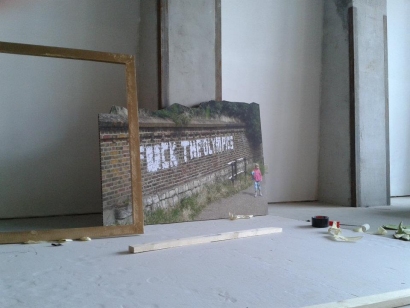 The exhibition 'Design as Politics' under construction in the Mini Mall (Rotterdam)
The final touches will be added to the exhibitions of the 5th IABR:
Making City
in the next few days. And also to the exhibition 'Design as Politics' in the Mini Mall, Rotterdam. This exhibition will not only feature a lot to see. The Hofbogen will soon resonate to the soundtrack of urban conflicts. And this weekend, you can take in the highpoints of protest and architecture in Rotterdam with tours during
Motel Mozaïque
and
ZigZagCity
. 
Tentoonstelling 'Design as Politics'
Architecture is politics! Why? Because cities are political. The city is the place where money, power, commerce, culture, religion and leisure meet and fight for a position.
The exhibition Design as Politics shows these fights through spectacular three-dimensional images. They show how for the construction of a beautiful urban project a whole neighbourhood has to be demolished, how bringing the Olympics to a city can lead to massive protests or how a political revolution can spoil a prestigious architectonic project. – More information in the
program overview
.
Riots make the city
Who makes the city? Politicians and project developers, urban planners and architects often seem to make the urban environment. But that isn't always the case. Sometimes, single-minded radicals, protests and even riots make the city. In Rotterdam, too. On Friday 20 April (16.30 – 18.00 hrs) and Sunday 22 April (13.00 – 14.30 hrs) guides will show you a few highlights of protest and architecture in Rotterdam. For more information, see the
Motel Mozaïque website
.
Design as Politics will be open especially for visitors to the concert of
De Avonduren
(Motel Mozaïque) on the roof of the Hofbogen on Sunday 22 April between 14.00 and 17.00 hrs.