02.05.12
Kick off Friday Afternoon Café (Vrijdagmiddagkaffee)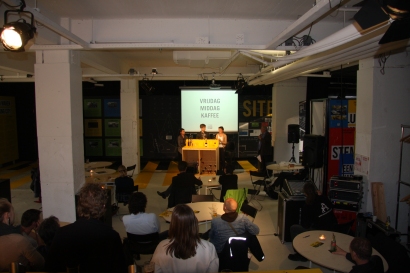 The first Vrijdagmiddagkaffee (Friday Afternoon Café) happened last Friday at the Dépendance on the IABR Test Site Rotterdam. Drink in hand, the audience had a chance to join in with the debate, led by Nico Haasbroek with Afaina de Jong (author of 'For the People, By the People: A visual story on the DIY City'), Francien van Westrenen (Stroom, The Hague) and quartermaster Job van Maurik (Van der Leeuwkring). 
4 May:
Vrijdagmiddagkaffee - Special Edition in collaboration with HipHopHuis
Next Friday (4 May), the Dépendance and HipHopHuis will together host a special edition
Vrijdagmiddagkaffee
. With HipHopHuis DJs and the screening of the documentary 'Women Are Heroes' by JR (artist and 2011 TED Prize-winner). – For further details, check the
agenda
.
The Friday Afternoon Cafés take place every Friday from 20 April to 17 August at the Dépendance (Schieblock, Test Site Rotterdam).