03.07.12
The Luchtsingel spans the Schiekade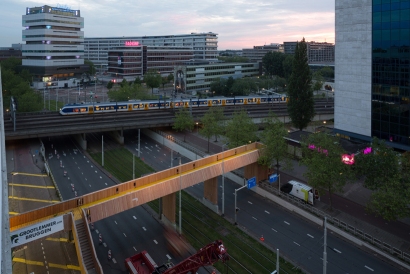 Photo: Ossip van Duivenbode
The second section of the Luchtsingel is installed on the night of 2 and 3 July. This part of the bridge spans the Schiekade and provides pedestrian access to Pompenburg. It's the latest milestone to be notched up by the winning Stadinitiatief Rotterdam (city initiative project).
Luchtsingel
Construction work on pedestrian walkway the Luchtsingel began at the end of March 2012,  on the
IABR Test Site Rotterdam
. The project is an elevated wooden promenate connecting Centraal Station with Hofbogen in a continuous, unbroken walkway without traffic lights or intersections. The Luchtsingel is being financed by Stadsinitiatief Rotterdam 2012 and crowd funding. For more information, see
www.imakerotterdam.nl
.
Public Opening
The latest section of the Luchtsingel will be unveiled in a celebratory opening on Friday 13 July at 19.00. A performance marks the occasion – with the people of Rotterdam in the lead role. Keep an eye on the
calendar
 for the detailed programme.
The Luchtsingel is an initiative of ZUS and part of the 5th IABR: Making City.