15.02.12
Luchtsingel among nominations for Stadsinitiatief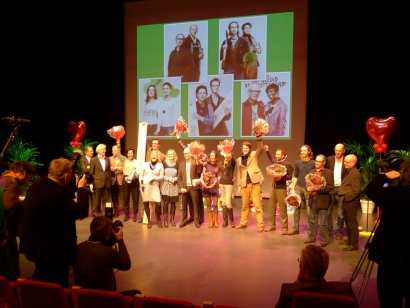 The announcement of the Top 5 of the Stadsinitiatief on 14 February.
Luchtsingel, an element of Test Site Rotterdam, has made it into the Top 5 of the Rotterdam Stadsinitiatief (City Initiative).
The announcement came yesterday during a festive gathering. The City of Rotterdam launched the Stadsinitiatief to offer everyone with an idea for the city a chance to make that idea a reality. ZUS submitted its proposal for a temporary footbridge called Luchtsingel, which is part of the 5th IABR:
Making City
.
From a total of 93 submissions, the jury selected a Top 5. These are the most creative proposals, says the jury, not only of value for the city but also realistic. Now it's time for Rotterdammers to have their say. From 1 to 12 March all inhabitants of the city aged 12 or older can vote for their favourite proposal. The winner will receive official support in realising the proposal.


Naturally we call upon everyone who holds the Luchtsingel dear and lives in Rotterdam to vote for this idea. The winner will be announced with a festive programme on Monday 12 March 2012.
> Buy a plank with your name on it and help build the Luchtsingel. You can order planks and even bridge components at 
www.imakerotterdam.nl
.