21.04.12
And the winner is...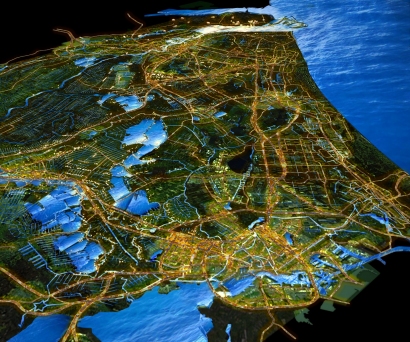 HollandStad - Inverted Metropolis
On Friday 20 April the Smart Cities Biennial Award ceremony took place at the NAI. An international jury selected 'Sendai Oasis - 1000 Rain Gardens' and 'Holland City - Inverted Metropolis' as the winning projects.
The Smart Cities competition was open to students worldwide. They were asked to develop a vision on future urban development in which a 'smart city' contributes to a sustainable world, socially and economically. The curators, the IABR and the NAI chose 23 projects from over 80 entries. These are presented in the 5th IABR
exhibition 'Parallel Cases 2 - Smart Cities'
. On 19 April an international panel reviewed the projects. 
Sendai Oasis
- SSD Environmental Axis and Ishiba Lab Graduate School of Engineering, Tohoku University, Japan
The project Sendai Oasis investigates an alternative to large-scale infrastructure after the earthquake and tsunami of March 2011. To protect the communities from heat island effects and heavy rainfall, the proposal outlines a network of small rain gardens that offer alternative risk management strategies to large-scale infrastructure, sustainable solutions for water usage and recycling, and green public spaces. The jury was very impressed by the proposal. It is almost self-evident and really can set an example for how to deal in another way with water and heat island issues. The project as a whole seems to have a significantly larger impact than its individual parts. Finally, the jury liked that, given the impact of the crisis, it is easier to start many small projects than a few really large projects.
HollandStad
- Fontys Academy of Architecture and Urbanism, Tilburg
The project HollandStad argues that both the Randstad and the Green Heart are not functioning properly, since synergy between them is impossible now. The proposal suggests combining them into a true metropolitan system with a backbone made up of waterways. The jury was excited about the thorough analysis that forms the foundation of the project. Moreover, it liked the way the analysis is used to devise an alternative strategy for how to deal with many urgent issues affecting this part of the Netherlands.
Jury members were Ton Venhoeven (Government Advisor on Infrastructure, jury chair), Michael Speaks (Dean of the University of Kentucky College of Design), Peter Swinnen (Flemish Government Architect) and Alexandros Washburn (Chief Urban Designer, New York City Department of City Planning).