24.04.12
Successful opening weekend for 5th IABR: Making City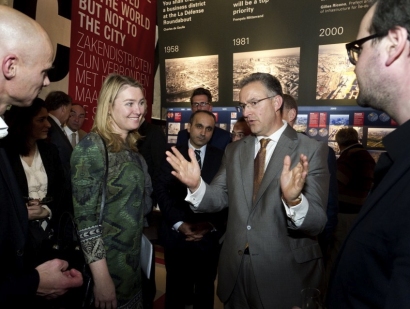 Photo: Michelle Muus
The opening weekend of the 5th IABR: Making City attracted over 7,000 visitors from at home and abroad. Despite the unsettled weather, the guests and general public enjoyed a diverse program of exhibitions and events staged indoors and outdoors. 
A total of six exhibitions opened, five in Rotterdam and one in Almere. Other highlights included the Urban Summit and the prize-giving ceremony of the Smart Cities Biennale Award. 

On Thursday, Melanie Schultz van Haegen, the Minister for Infrastructure and the Environment, and Ahmed Aboutaleb, the Mayor of Rotterdam, addressed an audience of 700 invited guests at the official opening of the 5th IABR. Both speakers stressed the urgency of forming new and unexpected alliances in the process of city making, thus underlining the importance of the IABR's activities and programs. Noteworthy therefore was the presence of the Mayor and all city councillors of the Municipality of Arnavutköy in Istanbul, IABR's partners in setting up the Atelier Istanbul.
Guests then made their way to the Schieblock building for the opening of the Test Site Rotterdam by Antoinette Laan, the city's alderwoman for culture. Joining them there for the official opening of the Luchtsingel and of the exhibitions
I / We / You Make Rotterdam
,
Making Douala 2007-2013
and
Design as Politics
, were many Rotterdammers, obviously curious to find out about the many activities now going on in this formerly lifeless part of the city.
On Friday night, after the invitation-only Urban Summit held during the day, a hall packed with students and staff from 23 schools of architecture around the world gathered to hear the announcement of the Smart Cities Biennale Award, won by students from Tohoku University in Japan and from the Academy of Architecture at Fontys University in Tilburg.
On Saturday afternoon, hundreds of guests gathered in the Citymall in Almere to hear Mayor Annemarie Jorritsma open the IABR exhibition
Making Almere
. 
Lectures and book presentations took place various locations, and VPRO Radio broadcasted live from the NAI during the opening on Thursday, and on Sunday from the Katendrecht district in Rotterdam.
Adding to the general excitement of the opening weekend was the new ZigZagCity architecture festival that also staged activities in public spaces, while the Motel Mozaïque music festival staged events that connected with the 5th IABR, particularly on the eastern wing of the Test Site, where the combined programs attracted crowds to the Mini Mall in the Hofbogen viaduct. 


Read more: