25.05.12
Mayor of Arnavutköy (Istanbul) in Rotterdam to talk about 'growth-crazy cities'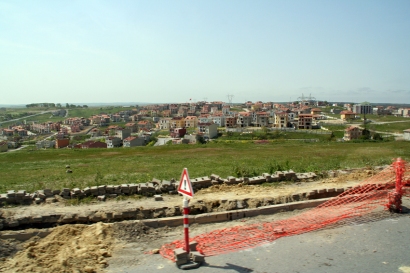 Photo: George Brugmans
The megalopolis of Istanbul stands for the dilemma facing rapidly expanding cities throughout the world. The city needs to find a good and profitable balance between the feverishly growing demand for housing and providing resources for this burgeoning population: food, water and mobility.
Debate 'Architecture in growth-crazy cities'
On Tuesday 29 May, the IABR and the Municipality of Arnavutköy are hosting a debate in the auditorium of the NAI (Rotterdam). A number of stakeholders, including Turkish architects Emre Arolat and Selcuk Avci, will discuss the issues facing sustainable city-making in a scenario of explosive urban growth.
At the end of the debate the Mayor of Arnavutköy, Ahmed Haşim Baltacı, will reflect on the points raised from the perspective of his role as major of a municipality of the Istanbul metropolis, and his experience with Atelier Istanbul, a joint project launched in 2010 by his municipality and IABR.
> For further details and to register for the debate, please see the
agenda
.
Atelier Istanbul
The recent signing of a contract between the Municipality of Arnavutköy and the IABR signals the start of phase two of
Atelier Istanbul
. Since 2010, the IABR has worked with an international team including the Dutch H+N+S Landschapsarchitecten and the Belgian 51N4E, to explore issues relating to urbanism, ecology and economy. Now, the Atelier will implement two pilot projects designed in phase one by the Atelier in its
Strategic Vision and Action Plan
. Phase two centres on both the design of the projects and developing the required stakeholder alliances. The aim is to complete the first project in 2014.
Exhibition 'Making City Istanbul'
The results of the first phase of Atelier Istanbul are on display in the main exhibition 'Making City' at the NAI (Gallery 1) until 12 August. Concentrating on design, phase two will result in tangible projects and also form the core of the exhibition 'Making City Istanbul'that opens in Istanbul on 1 October.
> Read more in the
program overview
.