19.04.12
Well-attended press preview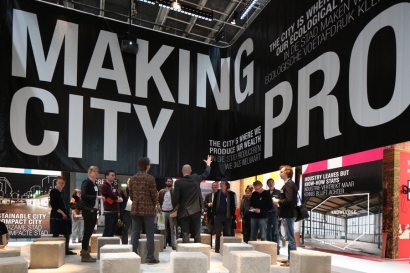 Main exhibition 'Making City' - Photo: Ossip van Duivenbode
Journalists from all corners of the globe gathered in Rotterdam yesterday morning for the press preview of the 5th IABR: Making City. A varied program introduced the assembled press to the highlights of the Biennale.
Curators of this fifth edition were on hand to guide everybody through the
main exhibition 'Making City'
and the
exhibition 'Parallel Cases 2 – Smart Cities'
 at the NAI. A sneak preview of the ZigZagCity route in the city centre of Rotterdam took the touring party to the
Test Site Rotterdam
(Schieblock and surroundings). ArchiGuides then took the journalists on a tour to the Luchtsingel raised promenade, the Rooftop Crops, and the roof of the Hofbogen viaduct (Mini Mall). 
Curious about these new ways of 'making city'? Starting this evening, the exhibitions at the NAI and the Test Site Rotterdam are open to everybody! – More information about the
public opening program
.