20.08.12
A party to celebrate the close of the 5th IABR in Rotterdam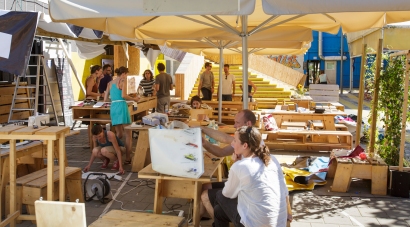 Photo: Fred Ernst
On Saturday 18 August, the 5th IABR:
Making City
 went out with a bang at
Test Site Rotterdam
. Visitors explored their creativity with access to materials left over from the exhibition at the NAI. They rolled up their sleeves and created some amazing stuff, with plenty of breaks for beer and great food in the Biergarten.
During the 5th IABR: Making City, Test Site Rotterdam exploded in a riot of activity and energy, with the Luchtsingel, the Tourcafé, the Biergarten, the Milkbar, a roster of exhibitions and tons of activities. Local people and visitors from the Netherlands and all over the world enjoyed (re)discovering this part of Rotterdam.
Making City Istanbul
In Rotterdam the fifth edition of the Biennale may have come to an end, but the program continues in Istanbul. The exhibition 'Making City Istanbul' opens there on 13 October and runs until 13 December 2012. For further details, check the
program overview
.