25.11.11
Succesful start I Make Rotterdam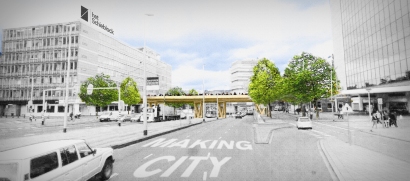 I Make Rotterdam, an initiative from the 5th IABR: Making City and architecture office ZUS, is already starting to grow, literally and figuratively. Since the launch of this crowdfunding project in mid-October, the first metres of the Luchtsingel have been secured. Well-wishers have already purchased scores of planks for the bridge. Since last week the procedure for buying planks has been simplified with an online order and payment module on www.imakerotterdam.nl.

Bridge over Hofplein
The area around Hofplein in the centre of Rotterdam was once a bustling district but is now dominated by speeding traffic. To give pedestrians more space again, ZUS is building a temporary pedestrian bridge here in a project entitled I Make Rotterdam. This will reconnect the city centre with the northern districts. Called Luchtsingel (Dutch for 'raised promenade'), the bridge will be largely completed by April 2012 and is just the first step in the plan to make Hofplein a lively pedestrian area once more.

Crowdfunding
Luchtsingel is being realised through crowdfunding, i.e. funding by the crowd. Everybody can get involved in erecting this bridge. Participants pay a contribution in exchange for having their name written on a plank, piece or component of the bridge. Some 17,000 planks are needed to construct Luchtsingel, and work starts in February. The length of the bridge depends on the number of planks purchased.

Alternative development strategies
The idea for a raised promenade first surfaced in the Central District master plan drawn up by the city of Rotterdam and Maxwan Architecten. This master plan dictates that Schiestraat will be realigned as the continuation of Delftse Plein, making a pedestrian connection logical. According to the current plans, construction of this pedestrian bridge is planned in 30 years.

The area cannot wait that long, however. Crowdfunding allows the bridge to be financed in an alternative way, namely directly by the public. This means that construction can start decades before it is planned. The necessary improvement in the quality of the area is therefore no longer fully dependent on policy plans and real estate developments.

Buy a plank with your name on it and help build Luchtsingel. You can order planks and even bridge components at www.imakerotterdam.nl.

Luchtsingel is a project by ZUS [Zones Urbaines Sensibles] in collaboration with Hofbogen B.V.