11.04.12
Construction of main exhibition 'Making City' in full swing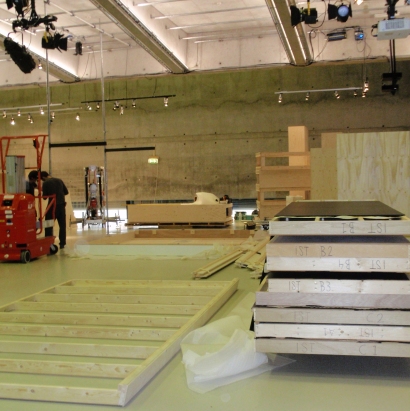 Construction of the main exhibition 'Making City' at the NAI
The first outlines of the main exhibition 'Making City' are already visible at the Netherlands Architecture Institute (NAI). From 20 April on, visitors can discover new ways of city making here. Besides 'Making City', you can also visit the exhibition Parallel Cases 2 – Smart Cities at the NAI during the 5th IABR: Making City.

Main exhibition 'Making City'
'Making City' is a manifesto for the city as opportunity and potential. All over the world, unceasing urbanisation is presenting huge social, economic and ecological challenges. It must therefore be the city that provides the answers, and that is only possible if we make and organise that city in a different way. 'Making City' showcases those possibilities, with a whole range of scenarios for life in the city, propelled by innovative and ever-evolving alliances of designers, administrators, planners, developers and residents. Together they are building the city of the future. Follow this thrilling journey en route to the city of tomorrow, a spectacular presentation designed by Kossmann.dejong.