20.04.12
Lecture 'Open City Batam: Tropical Town'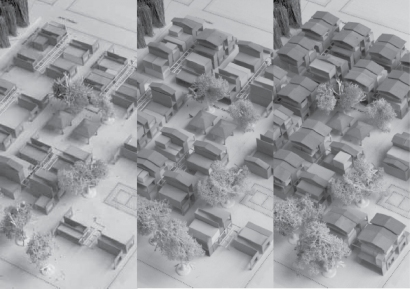 Open City Batam: Tropical town incremental housing ©KRUPUC, NUS 2012
Location: IHS Rotterdam (Erasmus University), Rotterdam
This event will share a new proposal undertaken by the KRUPUC collective and collaborators in conjunction with the municipal planning department (BAPPEDA) on the island of Batam. Batam is at the western end of Indonesia's Riau archipelago. It borders Singapore, and is an important industry hub in the Indonesia Malaysia Singapore Growth Triangle (IMS-GT). The Tropical Town project aims to develop a model for sustainable settlement for rapidly urbanizing contexts in Southeast Asia. At the centre of this project is an incremental housing model we have dubbed Rubah, or Rumah Tambah ('house of additions' in Bahasa Indonesia). The project as a whole is underpinned by a wider investigation of migration and processes of urbanization in the borderland region between Singapore and Batam.
Speakers
Kees Christiaanse (Member KRUPUC, Programme Leader Future Cities Lab SEC, Director KCAP, Professor ETH)
Stephen Cairns (Member KRUPUC, Scientific Coordinator Future Cities Lab SEC)
Daliana Suryawinata (Member KRUPUC, Director SHAU)
Rahmat Kurniawan (City of Batam)
Azril Apriansyah (City of Batam)

Time: 14.30 - 16.00 hrs
Admission: Free
Language: English
Location: Institute for Housing and Urban Development Studies (Erasmus University, Campus Woudestein, T-Building (left entrance), 14th floor), Burgemeester Oudlaan 50, 3062 PA Rotterdam
Open City Batam is a part of the main exhibition of the 5th IABR: Making City, exhibited from 20 April up to 12 August 2012 at the Netherlands Architecture Institute (NAI).