20.04.12
Making City - The Urban Summit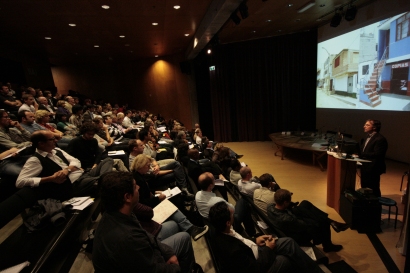 Photo: Michelle Wilderom
Location: Netherlands Architecture Institute (auditorium), Rotterdam
On Friday 20 April the IABR will hold an Urban Summit in Rotterdam. This international working conference will examine the changing role of politics in spatial planning. The objective is to reach an 'agenda of change' that the parties in attendance will then implement.

Over the past two years the IABR and the Curator Team has precisely defined the socio-economic and spatial challenges facing cities. These urban challenges demand not only innovation in terms of the physical design of cities but also new forms of collaboration. This also has implications for politics. That is why the IABR is organising this working conference specially for policy-makers, public officials, politicians, designers and all others who are professionally involved with the city. The core comprises alliances from the cities collaborating with the 5th IABR: Making City.

What does it mean for politicians, administrators, designers, investors and other actors when their way of working is no longer in harmony with practice? What roles should they adopt in order to make the most of the opportunities presented by the city? This political dimension to spatial planning will be the central theme during the working conference on 20 April.

The aim of the Urban Summit is to arrive at a so-called 'agenda of change', which is driven by the dynamic and potentials of the city itself. This agenda will define the ambitions and responsibilities with respect to 'making city' in a concrete manner. The participants, their organisations and other parties involved will then commit themselves to the agenda they have drawn up. In the subsequent period they will work with the agenda of change, both within their respective organisations and with one another.

Making City - The Urban Summit marks the beginning of a range of activities, events and political action aimed at making successful and sustainable cities. 

Making City - The Urban Summit is only accessible by personal invitation. But everybody can follow the Summit via live streaming in the NAI foyer or via Twitter (#Summit).
Program
Time: 9.00 - 14.00 hrs
Language: English

Xavier Briggs (Massachusetts Institute of Technology) will chair the Urban Summit. Together with Henk Ovink (Dutch Ministry of Infrastructure and the Environment, and co-curator of the 5th IABR), Briggs will fine tune the agenda of change that is developed during the day. Keynote speeches will be given by Damon Rich (City of Newark, USA), Anne Skovbro (City of Copenhagen, Denmark) and Joachim Declerck (Architecture Workroom Brussels and co-curator 5th IABR).
Credits
The 5th IABR: Making City Urban Summit is organized by the IABR in close collaboration with the Nicis Institute and EMI.
The Nicis Institute is the Netherlands' urban research institute and links data with practice through research, custom con- sultation, information dissemination, and training programs. Nicis works closely in Europe with the European Metropolitan Network Institute (EMI), a networking organization for cities, research organizations, policymakers, and scientists at the urban, national, and european level.