29.06.12
Friday Afternoon Café - Test Site Rotterdam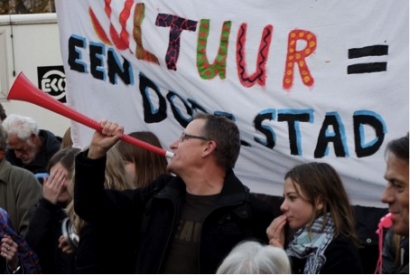 Location: De Dépendance (Schieblock), Test Site Rotterdam
Every Friday afternoon during the 5th IABR: Making City, the Dépendance is holding informal conversations and film screenings. The Friday Afternoon Café (Vrijdagmiddagkaffee) invites passers-by and users of Test Site Rotterdam to finish the week off with a few beers, while listening to stories about new ways of city-making. Different guests – all urban pioneers, ranging from professionals to lay-people – will share ideas, under the direction of an MC.
Programme 29 June (in partnership with Berlage Institute)
Panel debate: Cultural Capital of the City
How do we encourage artists to stay in the city? How can we nurture the city's cultural ecosystem? How will losing the Berlage Instituut affect the city? How can we build to create a 'fertile cultural humus' in the city?
Speakers
Aetsel Griffioen (philosopher, Rotterdam Vakmanstad)
Nanne de Ru (architect, POWERHOUSE COMPANY)
Saskia van Stein (curator, NaiM/Bureau Europa)
Moderator 
Bart Cosijn
Time: 18.00 – 19.00 (doors open at 17.00)
Language: English
Entry: Free
The Friday Afternoon Cafés are held every Friday from 27 April until 17 August.
Input for the Friday Afternoon Cafés is provided by AIR, the municipality of Rotterdam, EDBR/Rotterdamse Nieuwe, the Netherlands Architecture Fund, ArchiNed, de Cultuurscouts, VPRO and Rotterdam's best DJs.