30.06.12
Opening Tour Café - Test Site Rotterdam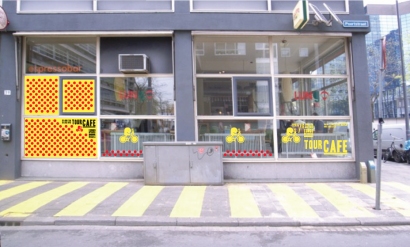 Location: espresso bar Lungo (Delftseplein 39), Test Site Rotterdam
The Tour Café officially opens on Saturday 30 June!
During the Tour de France (from 30 June – 22 July), espresso bar Lungo (Delftseplein 39, Test Site Rotterdam) will be in the grip of artsy cycle-racing mania. The idea was sparked by the 5th IABR: Making City, which invited Rotterdam and Rotterdammers to make the city an even livelier, more dynamic place. 
Visitors to the Tour Café can avidly follow each stage of Le Tour, live, every day, from 15.00 on the café's super-sized projection screen. And, of course, there'll be lots to enjoy after the etappe, with discussions about the day's racing, the heroism of La Grande Boucle and their passion for cycle-racing and Rotterdam. With live music on some nights, and a Tour Quiz for all cycle-racing fans.
The people behind Tour Café - Oscar de Grave, Peter Schuiten and Edwin Bos – came up with the idea as a unique project for Making City. – For more information:
www.tourcafe.nl 
The Dutch racing team Vacansoleil-DCM is a Tour Café partner.