28.07.12
Opening exhibition A TRANS Berlin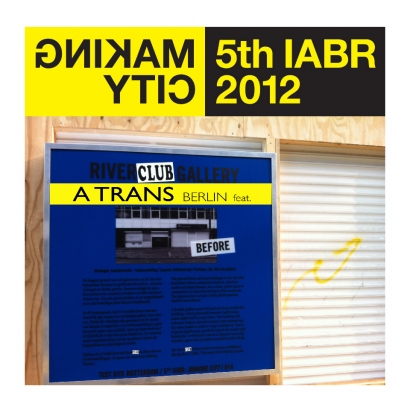 Location: RiverClub Gallery: Test-Site 5th IABR Delftsestraat 6 NL- 3013 CJ Rotterdam
On saturday, 28th juli at 20.00 opens A TRANS Berlin, the last exhibition at the RiverClub Gallery, part of the test-site of the 5th International Architecture Biennale: Making City. 
Beginning in 2006 A trans Berlin has offered a platform to individuals who value artistic-architectonic visions and give attentiveness to social questions. With determination in her search for allies and like-minded individuals and groups, founder and architect Isolde Nagel has presented a program designed to reflect, redefine and transform spatial, social, and urban phenomena. Fascinated by projects that transcend disciplinary boundaries, the program call attention to new and experimental tendencies that impact urban practices and identities within the city of Berlin but also other global metropolises.
For the 5th IABR: Test-Site Riverclub Gallery, A trans Berlin has invited participants from a variety of backgrounds who offer a fresh perspective on the "ideal" (philos.: "the ideational", germ.: "das Ideelle").
Opening
Saturday, 28th july, 20:00 t/m 22:00
RiverClub Gallery - test-site 5th IABR
Delftstestraat 6, Rotterdam (near Schieblock)
Exhibition
29 july – 12 august 2012
open: di. - zo. 10:00-17:00
Compiled by
Isolde Nagel (Berlin)
Contributors
Jakob Michael Birn (Berlin), Astrid Busch + Harald Opel (University of Dortmund | Dep. Film), Community Lover's Guide to the Universe (Rotterdam), Yona Friedman (Paris), Prof. Eilfried Huth (Graz), merz sauter zimmermann gmbh (Stuttgart), Claudius Pratsch (Berlin), Rajan V. Ritoe | tomaat web-tv (Delft), Prof. Thomas Tünnemann (University of Aken | Dep. Architectuur), Marian Wijnvoord (Berlin)